Wheeler Family Traditions
Wheeler Family Traditions in Wallingford, located in northern New Haven County, provides all golfers the most complete public golf experience in the area. Our 18 hole golf course offers a variety of shot selections, excellent course conditions and multiple sets of tees for the enjoyment of players of all skill levels. Come and enjoy our practice facilities, or possibly set up a lesson with our golf staff.
At the end of your round, stop by our full service restaurant for a great meal or just a drink and enjoy the view from the patio. It all adds up to a great day on the links!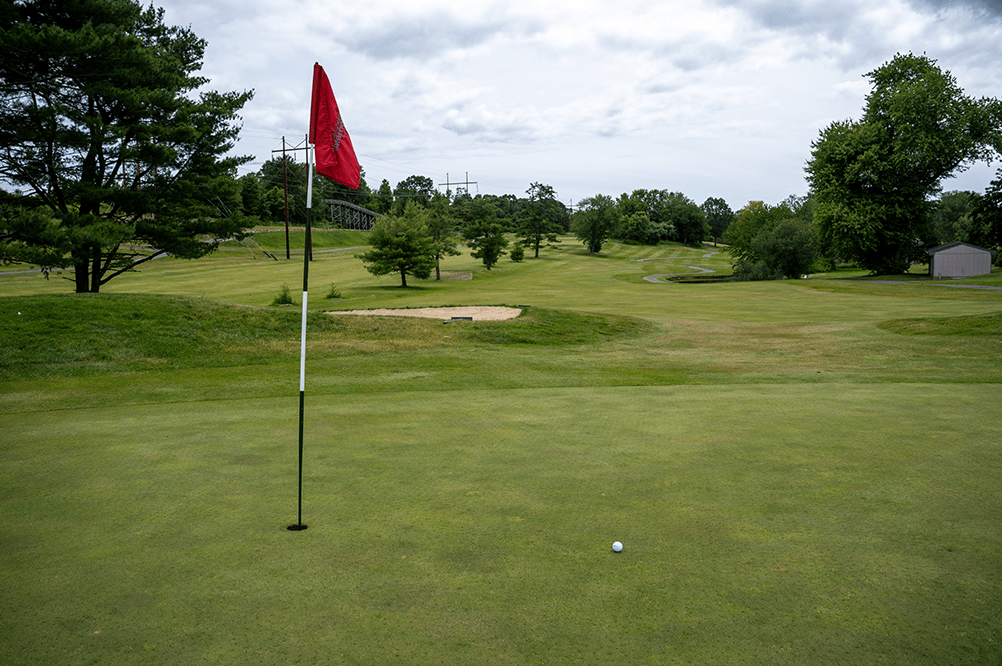 | Hole | 1 | 2 | 3 | 4 | 5 | 6 | 7 | 8 | 9 | Out |
| --- | --- | --- | --- | --- | --- | --- | --- | --- | --- | --- |
| Gold | 380 | 426 | 127 | 426 | 382 | 554 | 310 | 190 | 400 | 3195 |
| Blue | 358 | 406 | 112 | 410 | 352 | 530 | 300 | 174 | 394 | 3036 |
| White | 347 | 320 | 106 | 370 | 342 | 518 | 281 | 160 | 389 | 2833 |
|   |   |   |   |   |   |   |   |   |   |   |
| Par | 4 | 4 | 3 | 4 | 4 | 5 | 4 | 3 | 4 | 35 |
| Handicap | 7 | 5 | 17 | 3 | 11 | 9 | 13 | 15 | 1 |   |
|   |   |   |   |   |   |   |   |   |   |   |
| Red | 314 | 239 | 96 | 304 | 263 | 419 | 239 | 115 | 358 | 2347 |
| Par | 4 | 4 | 3 | 4 | 4 | 5 | 4 | 3 | 5 | 36 |
| Handicap | 3 | 13 | 15 | 7 | 9 | 5 | 11 | 17 | 1 |   |
| Hole | 10 | 11 | 12 | 13 | 14 | 15 | 16 | 17 | 18 | In | Tot |
| --- | --- | --- | --- | --- | --- | --- | --- | --- | --- | --- | --- |
| Gold | 303 | 476 | 155 | 476 | 456 | 180 | 418 | 304 | 157 | 2925 | 6120 |
| Blue | 275 | 460 | 145 | 460 | 435 | 146 | 400 | 295 | 129 | 2745 | 5781 |
| White | 256 | 447 | 125 | 431 | 409 | 139 | 380 | 275 | 105 | 2567 | 5400 |
|   |   |   |   |   |   |   |   |   |   |   | |
| Par | 4 | 5 | 3 | 5 | 4 | 3 | 4 | 4 | 3 | 35 | 70 |
| Handicap | 10 | 8 | 14 | 12 | 2 | 18 | 4 | 6 | 16 |   |   |
|   |   |   |   |   |   |   |   |   |   |   |   |
| Red | 211 | 425 | 103 | 366 | 359 | 100 | 230 | 231 | 83 | 2108 | 4455 |
| Par | 4 | 5 | 3 | 5 | 5 | 3 | 4 | 4 | 3 | 36 | 72 |
| Handicap | 14 | 2 | 12 | 8 | 10 | 16 | 6 | 4 | 18 |   |   |